KTA Students on the ATP & WTA Pro Tours
 We believe that we have more future pro's in our junior tennis program right now!  

This belief requires a "Best Practices" philosphy that separates our Junior Tennis Program from all of the others.
Everyone in our program benefits tremendously from the constant continuing education required of our staff to get even a few players to the professional level.  

We have players in our program who have been playing on the men's and women's ITF Pro Circuits 
since 2009 and who now hold current ATP and WTA world rankings in the Top 500. 

Make an appointment with Paul Kobelt for details (614 395-4394) and to start planning
your exciting journey today.
---
 Congratulations to Alex Kobelt for earning his FIRST ATP POINT!
Alex, a senior on the OSU Men's Tennis Team, just earned his first ATP point in Netanya, Israel on June 11.
He won three qualifying matches and then won his first round match in the main draw. 

Alex is the third Kobelt and the fourth NATC Alum to achieve a world ranking on the Pro Tour. 


---
Congrats To NATC Alums & Current Touring Pros:
Peter Kobelt & Maddie Kobelt!

Peter just won his 10th Professional Doubles Tournament!
Sharm El Sheikh, Egypt; April 1, 2018

Peter also won Back-to-Back Professional Singles Tournaments:
Akko, Israel; May 6 & Sajur, Israel; May 13
These were his 4th and 5th Pro Singles Titles

---
Check Out Maddie Kobelt's Hat Trick!

Maddie just won 3 Professional Doubles Tournaments in a row with 3 Different Partners!
This may have never been done before - still checking!
Akko, Israel with Maya Tahan (ISR), May 5
Sajur, Israel with Iva Primorac (CRO), May 12
Tiberias, Israel with Riya Bhatia (IND), May 19
These were her 8th, 9th, & 10th Pro Doubles Titles, with 10 Different Partners.
Almost 4 in a row: Maddie also made the doubles finals in Cairo, Egypt, April 29

Maddie is back in New Albany & Available for Private Lessons!
---
 2016 On the Pro Tours: 
Since July, 5 players who train at NATC have won 7 Professional Doubles Tournaments:
Maddie Kobelt (with Catherine Harrison from USA): November 26, 25,000 Futures in Nashville
Maddie Kobelt (with Ekaterina Kazionova from Russia): Sept. 24, $10,000 Futures in Kiryat Gat, Israel
Maddie Kobelt (with Vlada Ekshibarova from Israel): Sept. 17, $10,000 Futures in Ashkelon, Israel
Peter Kobelt (with Sam Barry from Ireland): Sept.  23, $25,000+H Futures in Plaisir, France
Danny Thomas (age 16) (with former Buckeye Connor Smith): Sept. 17, $10,000 Futures in Ashkelon, Israel
Danny Thomas (with former Buckeye Connor Smith): Sept. 10, $10,000 Futures in Herzlia, Israel
Danny Thomas (with former Buckeye Connor Smith): July 3, $10,000 Futures in Pittsburgh, USA
Danny (DJ) is now 12 - 0 in doubles on the Pro Tour! Are you kidding me?!
To the best of our knowledge, no other player has ever won their first 3 Pro Doubles Tournaments.

DJ trains nearly every day at NATC with his own team of coaches and other ATP touring pros, including former Buckeye Chase Buchanan, 
who is now also on our staff at NACT and will be teaching many of our clinics this winter. Having DJ, future buckeye JJ Wolf, 
current ATP players Blaz Rola, Connor Smith, Ralf Steinbach and Peter Kobelt, and their coaches at our club is amazing 
and an incredible learning experience for our NATC Staff and all of our players who watch them train.
Be sure to give them all a "high five" whenever you see them training at the club. 
---
April 28, 2016:
Congratualtions to NATC/KTA Alum Maddie Kobelt for winning her 2nd Career Futures Pro Doubles Title in Hammamet, Tunisia.
With this win, her WTA world ranking in doubles will move up to 630. 
March 26, 2016:


Congrats to NATC/KTA Alum, Peter Kobelt, for winning his 2nd Pro Futures Singles Title!
He made it thru a very tough draw with wins over 4 players who have been ranked in the top 300, ATP.(photo on right with his Coach Julian Olivari).
With this win Peter's world singles ranking has now risen to ATP # 335.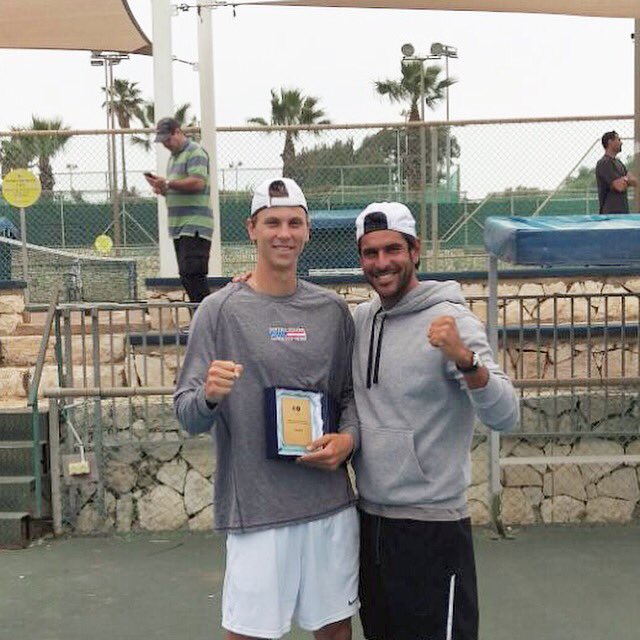 ---
DAVIS CUP, USA vs Australia, March 4-6, 2016

Congratulations to NATC/KTA alum, 
Peter Kobelt,
 for being selected as a US Davis Cup Practice Partner
for the tie vs Australia in Kooyong, Australia! He spent the whole week as the sparring partner 
for John Isner, Jack Sock and the Bryan Twins. Team USA won 3-1!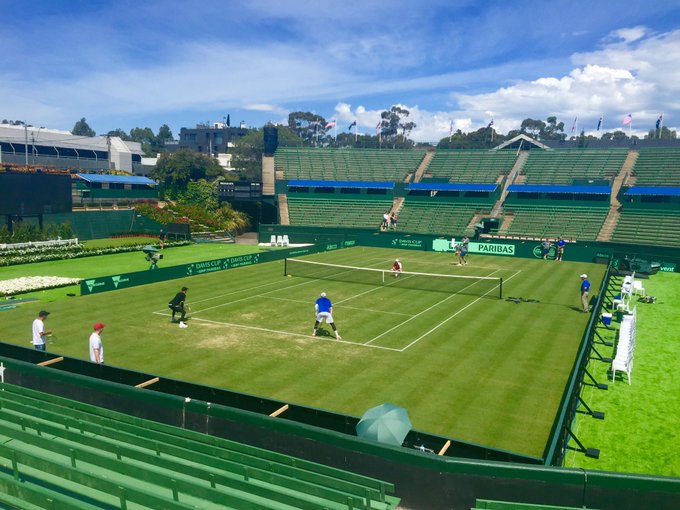 Peter Kobelt serving to Mike Bryan.
---
2015 Central Ohio Success Story:
In 2015, 4 local players from New Albany won Professional Tennis Tournaments.
To the best of our knowledge, this is the highest number of American players with 2015 Pro Titles of any city in the USA.
Chase Buchanan, New Albany, Ohio
5 Doubles Championships:
Charlottesville Challenger - 50K, Columbus Challenger - 50K, Cary Challenger - 50K,
Sao Paulo Challenger - 50K, Toronto, Canada F9 Futures ITF - 15 K 
Peter Kobelt, New Albany, Ohio
Singles Champion,Tel Aviv, Israel F17 Futures ITF - 10K
Francesca Di Lorenzo, New Albany, Ohio
Singles Champion, Women's Pro Tennis Open of Austin, ITF - 10K
Madeleine Kobelt, New Albany, Ohio
Doubles Champion, The Shipyard Cup, Hilton Head, ITF - 10K
Congratulations and good luck in 2016!

---
November 21, 2014: Recent Success of  Kobelt Tennis Academy ATP Touring Pro, Peter Kobelt,
Prompts a Visit From USTA National Coach, Stephen Amritraj.
Coach Amritraj is responsible for identifying and working with up and coming American professional players who have the potential to reach the Top 100 on the ATP Tour.
He made his first trip to Columbus to work with Peter for 2 days to help him prepare for his next 3 tournaments in
the Dominican Republic in December. He was very impressed with NATC / KTA's level of coaching expertise and the surprising
number of highly skilled players coming out of such a small community. Three players who learned how to play tennis in New Albany
participated in the 2014 US Open, more than many countries.

---
Congratulations to KTA WTA Touring Pro Maddie Kobelt

for Reaching her First USTA Pro Circuit Finals!
Maddie Kobelt & Doubles Partner, Emily Harman
Doubles Finalists, Hilton Head 10K Shipyard Cup
USTA/WTA Futures Tournament
October 4, 2014

---
Congratulations to KTA ATP Touring Pro Peter Kobelt!
For Competing in his First Grand Slam, the 2014 US Open! 
Click on this link for details:  http://www.ohiostatebuckeyes.com/sports/m-tennis/spec-rel/082414aab.html

---
Feb 7, 2013: NATC/KTA welcomes Maryeni Gutierez Soto, our first international full-time student. Maryeni, a 23 year old native of Venezuela, is training at Kobelt Tennis Academy and competing on the professional WTA tour through the end of 2013. Maryani played D-I college tennis at Lamar University and is currently the #12 ranked woman in Venezuela.

We are thrilled to have a player of her caliber training 4-5 hours every day at our Academy. While Paul is her primary coach, she also trains with all of our coaches and in all of our HP-CTC clinics throughout each week.    

Our top juniors have already begun benefiting tremendously from training with Maryani and observing her incredible work ethic first hand. Her determination to play more aggressivley every day, make every shot and never give up on a point is amazing to watch and very contageous.


---
| | |
| --- | --- |
| | |

August 5, 2012: 10K Futures Tournament - Decatur, Illinois 
We are all very proud of our most recent Kobelt Tennis Academy milestone -
this is the first time one of our students has won a professional tournament title!
Congratulations to Peter Kobelt, (New ATP World Ranking: # 867 in Doubles) 
USTA Pro Circuit / Ursula Beck Pro Tennis Classic
2012 Doubles Champion with fellow Buckeye, Connor Smith! 
Pete & Connor saved 7 match points in route to a 6-7, 7-6, 10-7 win in the finals.
Check www.ursulabecktennis.com for more details.

Click below to follow Peter Kobelt's ATP results: 
http://www.atpworldtour.com/Tennis/Players/Ko/P/Peter-Kobelt.aspx  
---
Maddie Kobelt has been playing USTA / ITF Pro Circuit tournaments since 2009 when she committed to play
her college tennis for Coach Luke Jensen at Syracuse University. In addition to currently playing #1 singles and
# 1 doubles for Syracuse, Maddie also plays up to 15 pro tournaments each year. 

In 2012 she reached her highest WTA doubles ranking of  #1171, winning main draw matches with 3 different partners. Her best singles results were a 6-4, 6-2 win over #884 Brazilian Yasmine Guimaraes in Bethany Beach, Maryland, and a close, 3 set loss to # 489 Piia Suomalainen of Finland in Saguenay, Canada.  
Click below to follow Maddie Kobelt's WTA results:
http://www.wtatennis.com/page/Player/Stats/0,,12781~17895,00.html
---